Rajasthan is a perfect mix of culture, tradition, and heritage, famous for its luxury Havelis, wildlife sanctuaries, and delicious food. Also, there are so many exciting activities and things to do in Rajasthan that attract many tourists. From Zip Lining to flying foxes, wildlife safaris, and hot air balloons, there are various fun activities in Rajasthan. Also, there are multiple Places in Rajasthan; you can explore the Heritage Forts and witness their splendid architecture or go boating in the beautiful lakes during your trip.
Things to do in Rajasthan
1) Desert Safari in Jaisalmer
Jaisalmer is the most famous tourist spot in Rajasthan. It is known for its Desert Safari takes place on Sand Dunes. A Jeep brings you to a point near Sam Sand Dunes (around 45 KM from City), where the camel rides start and last about 90 minutes. Also, you at stop at some famous spots on your way. However, The Desert Safari can be Done in the Morning or Evening, followed by a delicious meal with musical dance and a program which display the royal culture of Rajasthan. It's one of the best things to do in Rajasthan.
2) Hot Air Balloon Ride in Jaipur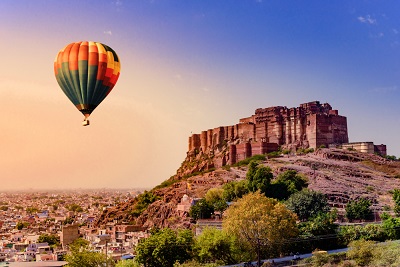 Many adventure activities have started in Pink City, providing visitors with a unique travel experience. One such adventures activities in Jaipur is Hot Air Balloon. Imagine flying over the palaces, forts, and lakes, soaking up the region's spectacular with the Aravali Hills as the backdrop. The experience is fantastic and gives you insight into this royal land. Currently three Cities in Rajasthan where you can enjoy the Hot Air Balloon Ride are Pushkar, Jaipur, and Ranthambore. Trying out this activity is one of the best things in Rajasthan.
3) Wildlife Safari in Ranthambore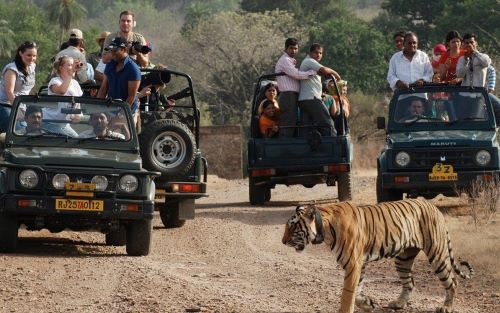 Wildlife Safari is a popular activity among wildlife and nature lovers where you can spot various species in their natural Habitat. The majestic tiger, elephant, boar, bears, and several species of birds in their natural Habitat are favorites to watch. Visiting this park is one of the top things in Rajasthan.
4) Boat Ride in Anna Sagar Lake, Ajmer
The breathtaking Anna Sagar Lake is a magnificent artificial lake in Ajmer, Rajasthan. This lake dries up yearly during the Summer Season and it is preferable to visit it at Sunset when the views are exceptionally unique. Also, the view of the lake from the nearby temple is highly breathtaking. Overall, this place must be visited when you are in Ajmer, as the beauty of this lake can be enjoyed with your friends and family.
5) Ropeway Ride in Udaipur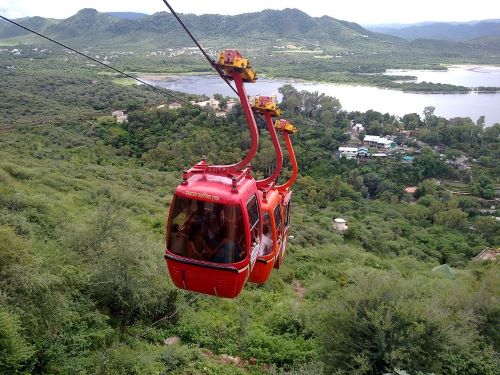 The Manaspurna Ropeway is one of the great places in Udaipur to travel to Machhala Top. The 387-meter ropeway ride is an excellent mode of transport to reach the Karni Mata Temple, Situated on the top of the Hill. It offers breathtaking views of the Fateh Sagar Lake, Lake Pichola, Sajjangarh Fort, and the City Palace surrounding the Aravali Hills. Also, there is a staircase leading to the temple, accessed from Maniklal Verma Park. Make sure to add this adventurous activity to your bucket list of things to do in Rajasthan.
6) Camel Festival in Bikaner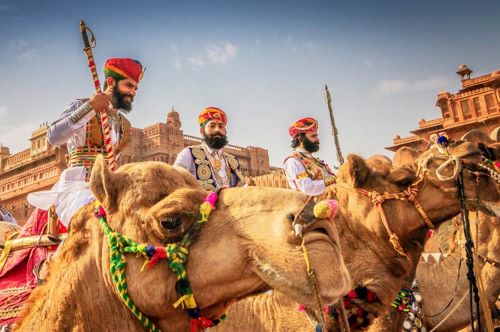 The camel Festival in Bikaner is a two-day event held in January in the land of Bikaner, which is situated on the northwest side of Rajasthan. This festival is a grand celebration of the rich culture of Bikaner, which attracts tourists from all over the world. The event consists of Camel Safaris, camel rides, processions, folk dance, and many other cultural activities and competitions. On the occasion of the event, the camels are dressed in bright and colorful Jewelry and Bridles. The bursting of vibrant colors in golden dunes is a sight that no other festival can match.
7) Boating at Lake Pichola
Lake Pichola is an artificial lake in the middle of Udaipur, Rajasthan. It is one of the Oldest and Largest lakes in the city, and Lake Pichola sees Lacks Tourist because of its serenity and beauty. Surrounded by high hills and heritage buildings, bathing and bathing ghats give you a spectacular view of nature. Visiting this lake is a great thing to do in Udaipur, and it is incomplete without a boat ride. The boat ride starts from the Rameshwar Ghat and takes you to the first Lake Palace Hotel; after that, you proceed to Jagmandir, where you can stay for a while and enjoy the beautiful view.
Also Read: Mongolia Travel Information